How to use the Editor Mode (Long Form Editor)
How to use the Editor Mode (Long Form Editor)
By Jan
updated 6 months ago
Welcome to the Long-Form Editor!

While the generator mode already gives you all the tools you need to write quickly, the Long-Form Editor turbocharges this by 10X. You can write an article with just a title and some clicks of the mouse.

To access the Editor, click on the Editor button found on the header.

On the Editor page, you can find two sections.
On the left, you can see the Writing Tools. These are the tools you can find on the Home page. It comes with a search button so you can easily find your favorite tools, or you can pin them to the top; just click on the pin icon located on the right-hand side of the tool (see screenshot below).


The Keyword Assistant is a feature where you can input your keywords, and the AI will use them when generating content. To access it just click the small arrow found on the Editor search bar.



On the right is the Document Editor. This is where you can directly create your content. The Editor loads a new document every time you open it.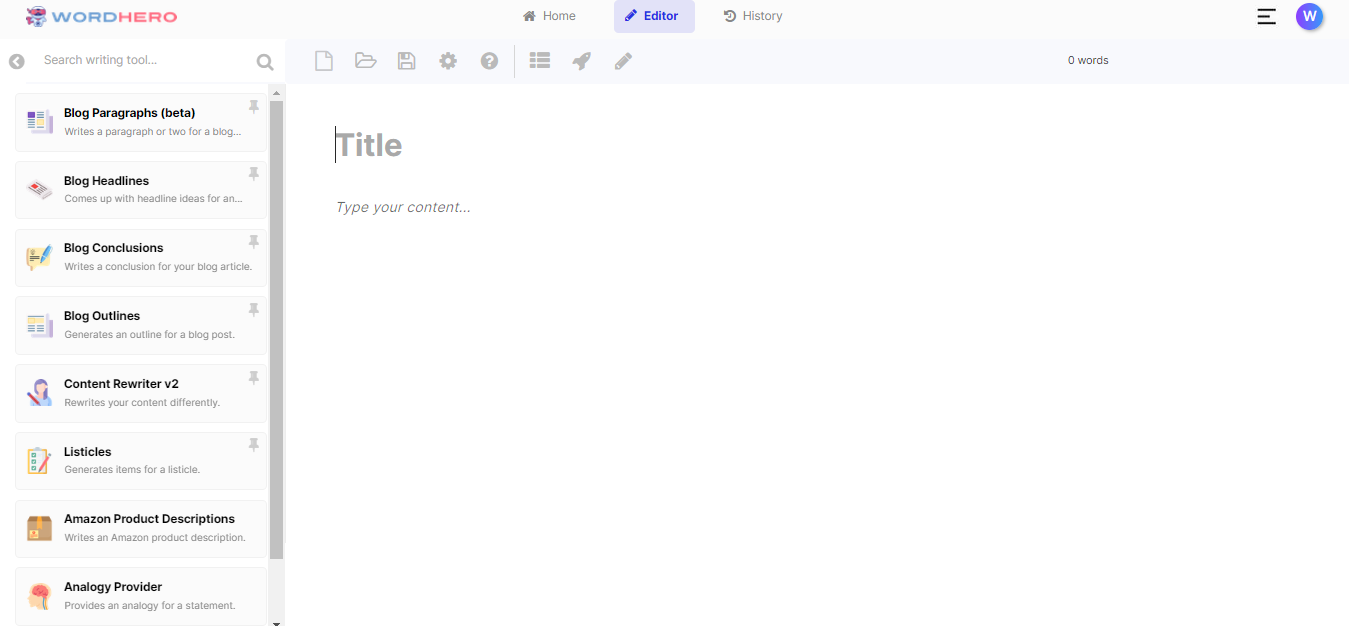 These are the buttons you see in the Document Editor panel. (From left to right)

Create new document
Open a document
Save current document
Advanced options
Help
Blog Outline (Generate an outline from the title)
Blog Paragraphs (Write content from the title or highlighted section header (Max 100 characters each))
Write More (Write more after cursor or highlighted text (Minimum 50 characters, maximum 600 characters lookback))

How to generate content in the Document Editor:
Type in your title. If you don't have a title yet, you can use the Blog Headlines tool to generate options for you.
Click on the Blog Outline button. This is an easy way to generate an outline with just one click.
Click on the Blog Paragraphs button. Once you are happy with the outline, you can go back to the top of your document, click on an empty line, and generate content.
Click on the Write More button. If you want more content added, just click this button.
NOTE: If the AI generates unrelated content, you can use other tools to generate content. Paste them to the Document Editor and click again on the Write More button.

Read also: Why is the output not what I wanted?
How to save and open saved documents:
WordHero already has a built-in autosave feature, but you can click the "Save current document" button if you want to make sure.
To open your previously saved documents, click on the "Open a document" button.
Watch also: How to write a 1,000-word article using the New Long-form Editor.
If you have further questions, contact support@wordhero.com, and we will be happy to help you.
Did this answer your question?